2021 PSA Growing Training Follow-Up Report
For four years, the NCR FSMA has worked with PSA trainers to conduct a follow-up survey with grower training participants approximately one year after taking the course. Results show that the vast majority of growers who responded to the survey have made changes to food safety practice, infrastructure, and/or equipment since taking the training. This is true of farmers no matter their FSMA coverage status.
New in 2021, the survey asked questions to assess the effectiveness of trainings offered via remote delivery due to the COVID-19 pandemic. Results showed that respondents were satisfied with remote delivery trainings. They also made changes at a higher rate than participants in face-to-face trainings, but the results are not statistically significant due to a very small sample size.
Read the full report or find the highlights in the executive summary.

2020 Impact Evaluation and Impact Report
The North Central Region Center for FSMA Training, Extension, and Technical Assistance (NCR FSMA) has made progress on achieving nearly all its objectives.
One highlight of 2020 was the advent of monthly calls for state regulators and monthly farm inventory calls. In fact, every state government employee interviewed in 2020 indicated they worked with someone for the first time as a result of these calls. Read more details in the Evaluation Report or catch the highlights in the Impact Report.
2020 Reporting Book
Find out what's been happening in all twelve states in the 2020 reporting book. Each page highlights key accomplishments in a state and includes one of our success stories. NCR partners have been busy!
You can also find evaluation data at the end of the report and lots of pictures of our gatherings.
Read the reporting book.
PSA Training Knowledge Assessment 2019-2020
The pre-surveys and post-surveys from Produce Safety Alliance Grower Trainings were evaluated. The evaluation team received 891 complete responses from 50 trainings in ten NCR states in 2019-2020. On average, respondents' scores improved by 4.5 points (out of 25) from the pre-test to the post-test in 2019-2020. Read the regional report for more details. Contact your state lead for individual state reports.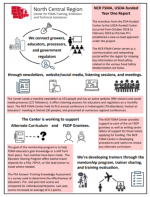 NCR FSMA Year One Report
Download the Year One (of USDA funding) Report.
year_1_report_with_graphics.pdf
Success Stories
As part of the National Collaborative initiative, NCR FSMA is tasked with developing national success stories related to FSMA in partnership with the Lead Regional Center and the Northeast Regional Center. Regardless of where you are in the country, we are seeking your help to develop these success stories.
Missouri growers benefits from University of Missouri Extension programming

Matthew Brubaker includes working with staff from University of Missouri Extension and the Missouri Department of Agriculture, and attending a PSA grower training as key elements of produce safety on his farm.

Pilot Hmong-language bi-lingual PSA grower training in Minnesota

The Produce Safety Alliance (PSA), University of Minnesota Extension, Minnesota Department of Agriculture Produce Safety Program, and the Hmong American Farmers Association (HAFA) recently collaborated to offer the nation's first alternate language training that met the regulatory requirement of § 112.22(c) for covered farms.

Cheney Lake Produce Benefits from a Team Approach to Grower Education

John Miller, his wife, Freida, and their five children have operated Cheney Lake Produce for 12 years. They have worked with K-State Research and Extension and the Kansas Department of Agriculture to make decisions that help them provide high quality produce to their community.

NCR FSMA partners draw upon their network to move trainings to remote delivery during COVID-19 pandemic

Produce Safety Alliance Grower Trainings are some of the many events that the coronavirus pandemic has affected. When it became clear that in-person trainings couldn't safely be held for many weeks, the PSA staff decided to temporarily allow remote delivery of the grower training.

Biological Soil Amendments of Animal Origin Conference

The FDA Produce Safety Network collaborated with the NCR FSMA Center and Iowa State University Extension and Outreach to develop a 1.5 day conference and tour in Iowa to discuss biological soil amendments of animal origin.

Farmer finds DATCP inspectors to be helpful partners in meeting FSMA requirements

Harmony Valley Farm (HVF) is a 120-acre farm in Wisconsin that sells certified organic vegetables. They recently hosted the Wisconsin Produce Safety Advisory Council.

Mennonite vegetable farmer serves as liaison between Plain community growers and state and federal agencies

LaVern Zeiset, who grows 25 acres of vegetables and has dairy cows, represents Wisconsin on a committee of Plain growers who help the FDA understand their community's unique concerns.

Produce Safety Alliance and NCR FSMA Collaborate on Produce Safety

The Produce Safety Alliance and the North Central Region FSMA Center (NCR FSMA) have a history of complementary efforts to help coordinate activities and strengthen produce safety outreach programs in each state.

Two States, One Mission

Dr. Londa Nwadike currently serves as the State Extension Food Safety Specialist for both Kansas State and the University of Missouri.
Cal Jamerson is the state extension produce safety associate in Kansas. He explained, "because Londa is the coordinator of produce safety Extension work in both states, this increases our operational knowledge of each other. We have two state approaches trying to solve a problem, instead of just one. When one state has good ideas, the other state hear about it."

Collaboration in Indiana Serves Produce Growers

The Indiana Department of Agriculture, the Indiana State Department of Health, and Purdue Extension collaborate under the umbrella of Safe Produce Indiana. As JoAnna Beck, a produce safety supervisor with the Department of Health said, this "gives growers a lot of resources and people they can trust and turn to when they have questions."

Educating Plain Growers

Plain community growers are generally concentrated in small areas. Bringing trainings to their communities can generate large audiences for trainings if an educator has built a relationship with the community.

Buske and Puffer

Farmers are learning that the new Food Safety Modernization Act (FSMA) Produce Safety Rule is not a burden, as they expected. Mike Buske has been growing vegetables commercially for nearly 20 years. While he admits that the idea of the government regulations could take the fun out of farming, so far FSMA has not been a burden. "As long as they keep the rules reasonable, it shouldn't cost much more than what we're doing," he said.

Farmers as Trainers

In the State of Minnesota, farmers are trainers for Produce Safety Alliance Growers Training. Some fruit and vegetable growers are required to take this course to comply with the Food Safety Modernization Act, but most of them are not required to take the course.

Brooks and Mai

Jamerson held a review at their farm, and a few other farmers attended as well. As a result, Brooks and Mai immediately made some changes to improve their food safety practices. "I stopped washing my greens," says Brooks. Previously, they had washed salad greens and spinach in a bin of water and then spun them dry. During the on-farm review, they learned that washing their greens using the same tub of water can spread contamination. Jamerson suggested that they sell their greens unwashed, if possible, or rinse them over a grate. In this way, water washes through, so that if something is contaminated it does not contaminate the whole bin.

Shephard's Farm

For some growers, the Produce Safety Alliance (PSA) Grower Training is their first introduction to the resources that are available to fruit and vegetable growers through Extension. The Food Safety Modernization Act, passed by congress and signed into law by President Obama in 2011, requires produce growers to attend an approved food safety course and the PSA Grower Training is the first approved course. Jim Shephard attended a training offered by the University of Missouri Extension.

Detroit Meeting

The first face-to-face gathering held for partners of the North Central Region Center for FSMA Training, Extension, and Technical Assistance (NCR FSMA) was a grassroots effort organized by two prominent partners: Phil Tocco (Michigan State University Extension) and Don Stoeckel (Produce Safety Alliance). During the summer off-season, new information about the Produce Safety Rule was released, and teams had time to develop new classroom activities to do a better job of educating growers.
Annual Evaluation Report
Read the Annual Evaluation Report that was released in January 2020. It covers the first year of funding through the USDA.
annual_evaluation_report_january_2020.pdf
Outcomes
This project was originally supported by an FDA grant and is now supported by a USDA grant. Read the Outcomes of the FDA grant.
outcomes_fda_grant.pdf
This work is supported by the Food Safety Outreach Program [grant no. 2018-70020-28877] from the USDA National Institute of Food and Agriculture.