Cheney Lake Produce Benefits from a Team Approach to Grower Education
John Miller, his wife, Freida, and their five children have operated Cheney Lake Produce for 12 years. They primarily focused on tomatoes in the early years, but have since diversified their operations.
Cal Jamerson, produce safety extension associate at Kansas State University, invited Miller and his son Walter to attend a Produce Safety Alliance (PSA) training. "Cal is very helpful," explained Miller. "He comes from a farming background, so it doesn't take long to connect. I appreciate that Cal can speak from experience when he's leading trainings."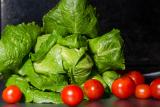 It was during the PSA training that the Millers learned that washing their lettuce wasn't a requirement. Based on their unique circumstances, they decided to stop washing their lettuce before selling and made other changes to their processes. Encouraging their customers to wash the lettuce instead of the growers can prevent the unintentional introduction of pathogens. The Millers also installed a new stainless steel surface for their cutting surface.

Their customers have had a positive reaction to the changes. "We try to keep the whole growing process clean and sterile, so we don't have to get rid of anything or add anything," remarked Miller. Jamerson added, "John is a great farmer. He has fantastic growing and post-harvest practices. I can say from firsthand experience that Kansas growers strive to grow and distribute safe produce."
Jamerson brought several people to the Millers' farm for an On-Farm Readiness Review (OFRR), including Kansas Department of Agriculture (KDA) produce safety inspectors. An OFRR is an educational opportunity intended to walk growers through what a regulatory produce safety inspection may look like, before an actual inspection is conducted. Cheney Lake Produce has gone through voluntary USDA Good Agricultural Practices (GAP) audits, so they weren't worried about a future Produce Safety Rule inspection, but it was beneficial to have a chance to prepare. Jamerson explained the process this way, "Participating in OFRRs is a great experience because you get to meet your inspector and we have a casual walkabout and talk best practices and any potential areas of concern."
Other parts of the family's operation were already inspected through KDA. Brad McMillan, a KDA Food, Drug and Lodging Surveyor who conducted the Produce Safety Rule inspection in the fall of 2020, had already been to their farm for a previous food processing license inspection. "It's nice when an inspector knows your operation before arrival," commented Miller. "Though it would be nice if one agency could handle all the inspections, so we wouldn't have to have three separate inspections during the year."
McMillan added this, "Grower education is a team effort, reflecting a partnership with the Produce Safety Alliance and K-State Research and Extension resulting in the On-Farm Readiness Reviews and other quality educational programs. These efforts have helped hard-working produce growers understand the new Produce Safety Rule and incorporate the new requirements into their production system to ensure they are providing safe, healthful food for consumers."