The Produce Safety Alliance (PSA) is a collaboration between Cornell University, FDA, and the USDA to prepare fresh produce growers to meet the regulatory requirements included in the FDA's Food Safety Modernization Act (FSMA) Produce Safety Rule. Dr. Don Stoeckel is the PSA Midwest Regional Extension Associate based in Columbus, Ohio. He joined the PSA in August 2015 and supports training and other related activities across the 12-state region. PSA and the North Central Region FSMA Center (NCR FSMA) have a history of complementary efforts to help coordinate activities and strengthen produce safety outreach programs in each state.
Don supports access to PSA courses for farmers across the North Central Region, working with training teams in every state. Overall, PSA has offered eight Train-the-Trainer courses in the Region, starting with October 2016, in Minneapolis.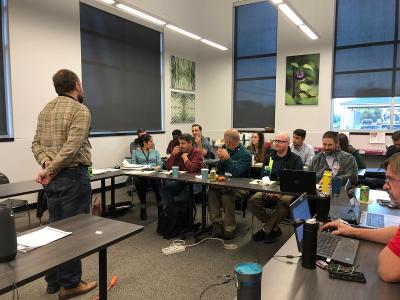 "In collaboration with NCR FSMA," Don said, "we brought about 30 people in and effectively launched the training course for the Region." Overall, these courses have created to a pool of 309 PSA Trainers in the region, of whom 47 went on to become Lead Trainers.
Annalisa Hultberg, University of Minnesota Extension educator, attended that early training course and appreciated Don's approach.
"The PSA has been so helpful for our outreach and education efforts," Annalisa said. "They are important partners and help us troubleshoot everything related to the Rule, and Don is a great resource for us."
PSA and NCR FSMA also work with non-governmental organizations in the region that support farmers. Eric Pawlowski, a Sustainable Agriculture Educator at the Ohio Ecological Food and Farm Association (OEFFA), commented, "From a farmer's perspective, the PSA staff give me the knowledge that I need, and I know it's grounded in science."
PSA efforts don't stop at Train-the-Trainer courses. They strive for inclusiveness and deeper levels of support for the trainer community. When it comes to inclusiveness, the PSA staff make an intentional effort for PSA's educational resources to reflect the diversity of farming across the country. Connie Fisk, PSA's Northwest Regional Extension Associate explained, "In September 2018, we had an educator call (webinar) that was about diversity and inclusivity, trying to give trainers in the country and internationally the tools they need to reach all growers."
Don shared how the PSA team continues to update the original curriculum with inclusiveness in mind. "When we created version 1.2, we changed 15% or so of the images so they are more representative of farms across the country. We recommend our trainers also use regionally-representative images when they give the PSA course."
In addition to imagery, PSA continues to work with collaborators to develop materials in Spanish, Mandarin, and others. Especially in the Midwest Region, PSA also helps support trainers who reach out to Amish and other Plain sect growers. Because some in the Plain community do not use electricity, PSA trainers must adapt the training to delivery in a culturally-appropriate manner.
The NCR FSMA and the PSA continued to work closely together since that first collaborative course in 2016. In 2018 and 2019, Don collaborated with NCR FSMA and state hosts to organize beginning-of-the-season refresher trainings for Midwest educators. This year's Training Blast Off was in St. Paul, Oct. 9-10, where 30 trainers from around the region came together to develop skills and to network, and another 30 joined remotely.
"It was a great way to get together to learn from each other as we develop the best training teams that we can to support farmers in our states," said Annalisa.
Though PSA staff are distributed geographically, they provide internal support for each other's regional collaborations. When Don was unable to attend the NCR FSMA's annual conference in June 2019, Connie stepped in to talk about the work of the PSA. She led a session that updated educators and regulators about PSA's work, and then facilitated a discussion on best practices for leading PSA trainings. Several attendees mentioned in their evaluations that they would incorporate the activity ideas brought by PSA to the NCR FSMA conference into their PSA trainings.
It was Don who encouraged Eric, of OEFFA, to attend the NCR FSMA annual conference. Eric remarked about the gathering, "The resources I got from attending the NCR FSMA conference have more than paid for itself." Eric's organization is a regional certification organization, so he often travels around the same area as Don and the NCR FSMA staff. These three organizations (PSA, NCR FSMA, and OEFFA), along with others, support development of collaboration networks across the Region.
Don and the PSA also operate at the national level. Over the past two years, Don worked with the Association of Public Health Laboratories (APHL) and others to host a webinar about the FSMA water testing requirements. In collaboration with Michigan State University, PSA has encouraged states to put together maps of labs in their area that can perform the necessary tests. Those maps for the Midwestern states, and other water testing resources, are now hosted on the NCR FSMA website. The process of creating the state maps won the JCEP Creative Excellence award at the 2019 National Association of County Agricultural Agents annual meeting for a MSU/PSA team, led by Marissa Schuh.
In addition to events and webinars, the PSA staff provide individual support for trainers in the North Central Region. The PSA team works closely with state training teams to help with continual improvement for their team trainers. Eric notes, "Sometimes there can be misleading information out there, and there definitely are some gray areas. Don's depth of knowledge saves me a lot of time through efficiency and problem solving."
Collaboration is key to effective use of resources and provision of reliable information to growers and other stakeholders across the Region. The combined efforts of PSA, NCR FSMA, state training teams, and other organizations like OEFFA make a tremendous contribution to education.