When Dan Brooks and Kelsey Mai were first contacted by Cal Jamerson, a food safety specialist with Kansas State University, they did not have food safety on their minds. Dan and Kelsey had just completed their first year operating Roots Revival Farm, a small vegetable farm near Sharon Springs, Kansas. "I honestly wasn't thinking of FSMA, because we are so small," says Brooks. They aren't currently required to be in compliance with FSMA, because of their small scale, but Brooks expects their sales to rise to the point where they will be required to comply.

Brooks and Mai sell vegetables at three farmers markets in Sharon Springs, Goodland, and Colby, Kansas, and also through the High Plains Food Cooperative, an online food co-op that connects local farmers with consumers and with wholesale opportunities. High Plains introduced them to Jamerson, who was conducting on-farm food safety reviews for produce growers as part of KSU's 2016 USDA Food Safety Outreach Program grant activities.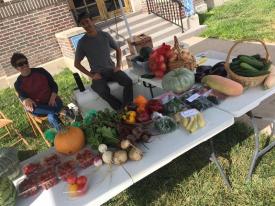 Jamerson held a review at their farm, and a few other farmers attended as well. As a result, Brooks and Mai immediately made some changes to improve their food safety practices. "I stopped washing my greens," says Brooks. Previously, they had washed salad greens and spinach in a bin of water and then spun them dry. During the on-farm review, they learned that washing their greens using the same tub of water can spread contamination. Jamerson suggested that they sell their greens unwashed, if possible, or rinse them over a grate. In this way, water washes through, so that if something is contaminated it does not contaminate the whole bin.

They also learned how they can be more careful when using manure. "We have a huge pile of old manure; I put it on the beds whenever," says Brooks, alluding to a common misconception that old manure cannot carry pathogens. They learned raw manure needs to be applied at least 120 days before harvest, so now they spread manure only in the fall, and use compost if necessary during the season.

The release of FSMA regulations came at a good time for Roots Revival Farm. "It's good for us, because we'll be able to get food safety taken care of from the start," says Brooks. "As we build more infrastructure, I'll keep produce safety in mind."

Brooks and Mai will continue to receive FSMA training from Kansas State University which was partially funded by the Kansas Department of Agriculture, as well as KSU's USDA FSOP grant. They are planning to attend a workshop during which they will write a food safety plan for the farm, which is recommended by FSMA (but not required). "We're lucky in the position we are in, to have so much help starting out," Brooks said.