Two States, One Mission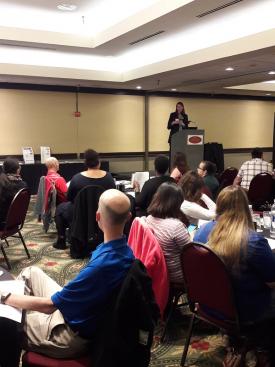 Dr. Londa Nwadike currently serves as the State Extension Food Safety Specialist for both Kansas State and the University of Missouri. She received her PhD in Public Health and Safety at the University of Iowa in 2009. Some of Londa's areas of work include consumer food safety, as well as food safety for farmers' market vendors and produce growers.
Cal Jamerson is the state extension produce safety associate in Kansas. He explained, "because Londa is the coordinator of produce safety Extension work in both states, this increases our operational knowledge of each other. We have two state approaches trying to solve a problem, instead of just one. When one state has good ideas, the other state hear about it."
Patrick Byers, commercial horticulture field specialist in Missouri, added, "It's very helpful to me that Londa has a joint appointment. She has access to resources in both states, not just one. It makes it very effortless and seamless to coordinate work between our two states."
Londa develops programs as well as resources that assist with food safety issues. Patrick gave more details, "Resources that Londa develops in either state are generally made available very quickly in the corresponding state. Efforts in one state directly benefit the growers in another state."
Kansas and Missouri also collaborate on water testing. Byers explained, "Londa has funding from several sources to offer free water testing to growers in Missouri, but the lab is actually located in Kansas. Extension agents in Missouri have been working with growers to collect and send several dozen samples to the lab in Kansas."
"All the Missouri water testing samples have been processed on the Kansas State campus in Olathe," Cal continued. "We get to see results from both states."
When juggling two states, it can be challenging to assure that all information is shared, but Londa does her best to assure that everyone is equally informed. She sees her involvement with the NCR FSMA as another platform to serve both states.
"Because I work for both states, we are able to share the information with our regulatory and Extension partners in Kansas and Missouri," said Londa. "I think that the sharing of such valuable information is very beneficial to both states."
Being a part of the NCR FSMA, Londa was also able to work better with socially disadvantaged groups, because of the useful information that the NCR FSMA provided. Also, the chance to work with other states and see what they have been doing to help socially disadvantaged groups has played a huge role as well.
"We have been able to learn from other states about their best practices when working with specific groups," Londa said. "With the regional center and its connections, it makes it easier to gather the resources we need."
"It has been really good to network with other people working on produce safety outreach across all 12 states," Londa continued. "The NCR FSMA provides the network that is needed to assist educators with the ability to continue advocating for produce safety."
Londa sees her involvement with the Center as beneficial and resourceful as she serves both Kansas and Missouri.