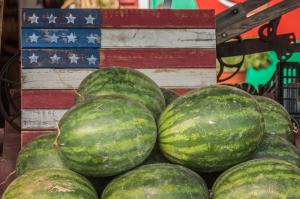 Most military veteran farmers engage in small-scale farming. Like other small-scale farmers, they face challenges balancing making profits and complying with food safety regulatory requirements. As one military veteran farmer described: "Many farmers decided to opt-out of growing produce due to the regulations. I only grow hay and hemp, and I will not grow produce because there are too many regulations, and it costs lots of money to comply with." With potential physical and physiological trauma, military veteran farmers may have additional challenges in complying with food safety regulations. However, the food safety education needs of this niche farmer group have rarely been evaluated.
In 2019, we distributed an online food safety education needs assessment to the military veteran farmers in Indiana to assess their barriers and unique needs for food safety education. Findings showed that military veteran farmers had difficulties in learning about food safety due to a lack of time and an overwhelming amount of information. They preferred to receive food safety information through electronic newsletters and in-person workshops. One participant explained that: "I like newsletters because I can refer to that when it's 3 am and I can't sleep." This farmer group also preferred to attend educational events in-person with small groups of military veteran farmers or have one-on-one mentoring sessions.
To address the needs of military veteran farmers, we developed and evaluated three veteran-farmer-preferred educational interventions: monthly learning circles, monthly electronic newsletters, and one-time, half-day, in-person workshops including a canning workshop and two farm tours. As preferred by military veteran farmers, learning circles provide an opportunity for them to meet with a small group of other military veteran farmers regularly to discuss and learn about food safety collaboratively. From the pilot study, we found out that all educational interventions improved these farmers' food safety knowledge, but learning circles tended to be the most effective educational interventions among the three interventions. Overall, participants held positive attitudes toward the educational interventions: "The presentations and farm tours were very beneficial for providing a more 'hands-on' learning experience that strengthens the understanding and relatability of topics."
This is an exploratory study examining the unique needs of military veteran farmers in food safety education and pilot-testing the effectiveness of veteran-farmer-preferred educational interventions. The findings of this study set the stage for the development of future food safety education program for military veteran farmers.