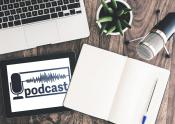 The topic of food safety can be daunting for many vegetable farmers. The amount of information – including microbial science, regulation, and recordkeeping – can be overwhelming, with the need for both broad and deep content to make an effective positive change on the farm with respect to food safety practices. To address this need, UW-Madison Extension and Outreach specialists Erin Silva and Harriet Behar, in partnership with Annalisa Hultberg (University of Minnesota), developed a series of 10 to 15-minute-long podcasts that create a platform for farmers to access this information in a consistent, accessible format. They recorded 34 podcasts, which add up to almost seven hours of content. The format series covers a wide range of topics that both establish a foundation in food safety while bringing more sophisticated approaches to designing and implementing food safety practices on diversified vegetable farms. This includes an introduction to the importance of food safety and the biology of microorganisms, and also the practical considerations of pack shed construction and recordkeeping.
The podcast series is specifically aimed to the small- to mid-scale diversified vegetable operations typical of many farms in the North Central region. The information in the podcast provides farmers of all scales approachable and implementable strategies that align with the Food Safety Modernization Act Produce Safety Rule. The podcast provides farmers with tools to ensure that they are adhering to the regulation in ways that make sense for their farm operations and profitability.
"We designed these podcasts to fill the need for more ways in which farmers can consistently access information to improve food safety practices on their farms," says Dr. Erin Silva, Associate Professor at the University of Wisconsin-Madison. "Harriet Behar, the host of the podcast, is a diversified organic vegetable farmer herself, and wrestles with finding workable solutions to implementing food safety practices on her own farm. With her practical approach that is grounded in science, we are confident that farmers will be able to use the tips and suggestions presented in these podcasts to continually improve their food safety operations."
The podcast format was chosen to allow farmers accessibility to the information year-round. "Many times, farmers receive food safety training at day-long or multi-day conferences," says Silva. "While the longer, more structured approach is great for getting a lot of information out quickly, it can be like receiving knowledge through a firehose and difficult for a farmer to really digest and retain all the information with which they are presented. With the format of short podcasts, farmers can listen to these refreshers all year, while they are driving their tractors or working in the fields. It is a great way to both reinforce and build upon the longer training events that are offered."
These podcasts are available for streaming on SoundCloud - https://soundcloud.com/user-330405586/sets.