In the State of Minnesota, farmers are trainers for Produce Safety Alliance Growers Training. Some fruit and vegetable growers are required to take this course to comply with the Food Safety Modernization Act, but most of them are not required to take the course.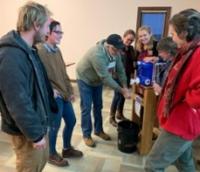 Annalisa Hultberg is an extension educator in food safety at the University of Minnesota as well as the state lead for North Central Region Center for FSMA Training, Extension and Technical Assistance and National GAPs Program. She has found that having farmers contribute as trainers in the FSMA trainings has had a positive impact on the overall training experience. As said by Hultberg, "The farmers are exceptional trainers. They know not only the requirements of the Produce Safety Rule, but they know how to really implement the practices on the farm. They have great credibility with their peer farmers."
Annalisa is very passionate about making her trainings good. When describing the trainings she helps put on Hultberg said, "We keep it light hearted, laugh a lot, and do hands on activities. I try to make it interactive, so it's not boring." She believes adding farmers as trainers has added an extra element to the already fun atmosphere of her courses. The farmers who are now training other farmers had many of the same reactions as their leader to the idea of including farmers to help teach the trainings.
Laura Freriches and her husband Adam Cullip own and operate Loon Organics, a 40-acre certified organic vegetable farm 70miles west of Minneapolis. They have owned their farm for 10 years and have established a successful 200-member CSA, have a booth at a farmer's market in Minneapolis, do a little wholesale to food co-ops and restaurants, and give to the local food shelf in their area. Frerichs found that it was very natural to bring in farmers as trainers and that it worked very well. As said by Frerichs, "The people of the University of Minnesota Extension had already been building relationships with produce farmers for over a decade by having them involved in training, field days, and workshops, so it made a lot of sense for them to bring in those farmers to become trainers." Frerichs felt that the transition went smoothly from trainee to trainer, and other farmers felt the same way.
Another farmer from Minnesota, David Abazs, became a trainer for the FSMA trainings. Abazs has personally been growing for around 34 years, and he currently manages three different farms. One of those farms is a small, diversified, off the grid, vegetable farm that he and his family live on, and they grow for their CSA. He also manages a school farm, Wolf Ridge Environmental Learning Center, which works with 4th grade through college-age students to provide produce and eggs for the school. The final farm that he manages is the AgroEcology Center in Finland, MN. Abazs has enjoyed becoming a trainer and channeling his educator side. "Becoming a trainer allowed me to combine two great loves in my life. These two things being farming and education," said Abazs. He was excited to teach under these circumstances and he thought it was a great opportunity for other farmers who have a passion for educating, and he has found that many of these farmers turn in to some of the best trainers.
While the farmers get to be a part of developing this learning community, they get other benefits from being trainers as well. Even after her 14 total years of farming experience, Frerichs feels that this training and becoming a trainer has been beneficial to her and her business. When talking about the trainings she said, "It has helped us to think about the future and what it will be like as we continue farming."
Similarly, Abazs has modified some of his practices at the different farms that he manages because of these FSMA trainings. "I have been motivated to put together a food safety plan for the school farm, and I have changed some of our washing procedures as well as temporary storage procedures based on information I have learned from the trainings," said Abazs. He feels that these trainings have helped him to make slight modifications to the practices that he already has in order to have good quality produce that is clean and well kept after harvest.
Abazs, Frerichs, and Hultberg have all found that including farmers as trainers has been a positive experience and they look forward to passing on their knowledge from personal farming experience as well as what they have learned from the FSMA training processing.