Iowa State University staff collaborate to offer training that impacts people around the world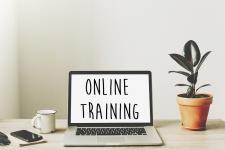 Outreach, Inc. is a non-profit based in Union, IA. One aspect of their mission is providing food to food-insecure families. Before the pandemic, much of their work was done with big meal packaging events with volunteers. This model required volunteers to work closely together, so it wasn't safe in the spring of 2020, due to the COVID-19 pandemic. The demand for food assistance had increased, so The Outreach Program needed a new system to meet that demand. The organization's founder, Floyd Hammer, suggested they buy an automated machine to package their meals. He consulted with Brenda Martin, an Industry Program Manager through the Center for Industrial Research & Service (CIRAS) at Iowa State University. She explained that the organization would need a PCQI coordinator on staff to provide food safety assurance for doing their own processing.
Thankfully CIRAS had recently received a federal grant and was ready to provide online training geared towards small food processors in Iowa. A unique partnership between Iowa State University's CIRAS and the Extension and Outreach Iowa Grain Quality Initiative (IGQI) equips university staff to work with food and feed manufacturers from Iowa and across the world. Launched in 2017 through a shared position, CIRAS and the IGQI combine their manufacturing experience with food and feed science expertise to ensure producers have the resources they need to make real-world change.
Katelyn Koppes was asked to become the PCQI Coordinator for the program. She took an online class through CIRAS before the machine was delivered. Katelyn found the online course easy to navigate, and her favorite part was the instructor-led portion. Even without a background in food safety before the course, she found the class enjoyable and learned a lot in a short amount of time. She was able to ask questions and have discussions with other participants. She could share potential situations and get real feedback and suggestions.
Katelyn's new responsibilities include training new staff to use the packaging machine, preventing cross contamination, and overseeing the cleaning procedures. As the organization has worked out the new system, they've had to tweak plans and learn to fix problems. Which is why having instructors as part of the course was so important for Katelyn. She has worked with Kim Anderson, who was able to answer her questions and establish contact with the company and other food safety experts within ISU. Anderson has a shared position at Iowa State University, as part of both the Iowa Grain Quality Initiative (IGQI) and CIRAS. The staff at Iowa State University Extension and Outreach and CIRAS were helpful in steering Katelyn in the right direction and patient as she learned her new role.
In August and September, the organization was able to send 2 million meals to Kansas Emergency Management. The plan going forward is to distribute meals packaged both by the machine and by volunteers at events. The machine is able to fulfill the demand from organizations that serve larger areas. Volunteers will still pack meals for smaller, local food banks. The machine is helping them fulfill their mission on a larger scale.
Not only are some of the meals packed by The Outreach Program headed around the world, this CIRAS-led food safety, PC-based program is also training people around the world. Mohammad Tajammul took the course for his job in Saudi Arabia. He has implemented the recommendations that he learned in the course as part of his work as a food safety and compliance Manager at Namariq Arabian Services Co. Ltd. He works with cheese manufacturers, bakeries, hotels, and catering businesses.
Mohammad found the course online through the Iowa State University online platform when he was looking for courses to increase his knowledge and utilize his extra time at the beginning of the COVID-19 pandemic. It was his first experience with CIRAS at Iowa State University, and he's thankful that he found the course. Because of the training, he was able to work with a company conducting a mock recall, traceability and hazard analysis which was successfully completed.
He especially appreciates the resources that has been able to access, such as the templates. The workshops were easy to follow, and the small group discussions allowed him to understand more about FSMA. He has been able to offer better advice and help clients write food safety plans and checklists.
Even on another continent and in another time zone, he has been able to connect with Kim Anderson via email, and she continues to provide support. Mohammad found the course to be very helpful in handling food safety challenges, and he looks forward to working with Iowa State University again.
Anderson summed up the program this way, ""It was our teamwork that made a notable impact on food safety for companies that took our program. Having the expertise of Dr. Shannon Coleman, Brenda Martin, and my fellow colleagues in Idaho, Georgia, and Oregon contribute to the value and strength of the program in addressing food safety from many different perspectives."
For more information, contact:
Kimberly L. Anderson, MPH: Phone 515-686-9032 or kandrson@iastate.edu