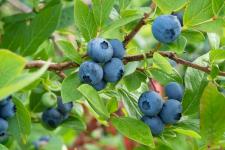 Drew McCulley and his wife Stephanie had both worked in agriculture in their hometown in Indiana. He worked for an agricultural retailer, mostly selling seed and fertilizer. Stephanie had also worked for an agricultural retailer and as an Extension agent for Purdue University. The two of them had an opportunity to buy an existing farm, with all the ground, equipment, and even a home. Along with Stephanie's mother, Janie Shriver, they bought the whole operation and renamed it Valhalla Farms.
The original blueberry patch was planted in the 1950s and when the former owners retired, the community was worried what would happen to the farm. There was lots of community support when the three of them bought the farm and maintained the U-pick blueberry business.
Sixteen acres are in blueberry production, but they also grow strawberries, sweet corn, and assorted vegetables. The majority of their income results from the U-pick business. They have a small freezer beef business as well.
The previous owners helped them sign up for email newsletters from various groups that they had found helpful. With Stephanie's previous job with Purdue Extension, she connected with produce experts there. "We wanted to get people on our farm early on," Drew explained. They invited staff from Indiana Department of Health, Indiana State Department of Agriculture, and Purdue Extension onto their farm for an On-Farm Readiness Review. "Tari Gary was one of the people who visited the farm, and she was nice to work with." It was a good opportunity for the new owners to learn.
While on their farm, the state employees found cleaning products that were previously approved but had been taken off the approved list just recently. The previous owners had left the extra supplies. For Drew and Stephanie, it was valuable to have outside experts who know the most recent regulations visit. "We wouldn't have known that those regulations had changed." They also learned more about record keeping and best practices for cleaning and sanitizing buckets for their U-pick operation. The McCulleys learned more about water testing and general care of the irrigation well, too.
Drew and Stephanie hope to expand Valhalla Farms in the future and expand their season to longer than just blueberry season. They'd like to increase their sales of other produce and freezer beef. They are considering added fresh baked goods and know they'll need to take additional courses, like ServeSafe, when they are ready for that.
Drew has found the OFRR and his relationships with educators and regulators quite valuable. He encourages all growers to request an OFRR before an inspection. He found the inspectors, "are looking out for my interests and every body's else's interests."