The first face-to-face gathering held for partners of the North Central Region Center for FSMA Training, Extension, and Technical Assistance (NCR FSMA) was a grassroots effort organized by two prominent partners: Phil Tocco (Michigan State University Extension) and Don Stoeckel (Produce Safety Alliance). During the summer off-season, new information about the Produce Safety Rule was released, and teams had time to develop new classroom activities to do a better job of educating growers.
Tocco recalls that they discussed having a kick off meeting in the fall of 2018 to "sharpen the saw" before the new PSA Grower Training season began. Tocco and Stoeckel brought the idea to NCR FSMA for support, but they led the effort to plan and organize the meeting.
The gathering, informally called News and Brews, was held at The Inn on Ferry Street in Detroit, Michigan, on October 23, 2018. Amanda Deering of Purdue Extension described the location: "They had an awesome venue! It was several older houses and it was like a bed and breakfast." The unique venue gave the meeting an intimate feel, and most attendees really liked it.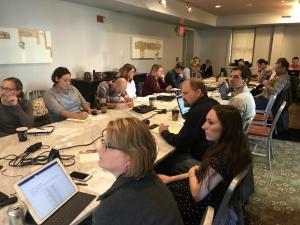 This close, intimate feel was intentional. Says Tocco, "I've seen with the other regions the more they see each other and collaborate, the more they flourish and really go." One anonymous survey respondent said, "The hotel and conference choice and the private feel of the conference area was great."
The daylong meeting included "deep dives" into FSMA-related topics (the "News" part of the meeting"), site visits to Keep Growing Detroit Farm and Eastern Market Shed 5, and opportunities for partners to meet, interact, and build camaraderie across the region going into the training season (i.e. "Brews").
Participants found a lot of value in meeting face to face, some for the first time, and learning from one another. Deering said, "The most beneficial aspect of the meeting was meeting people doing the same thing you are doing […] We are all doing the same stuff, but everyone is going about it a little differently. I liked hearing how other people are doing it."
Lindsey Pender of The Ohio State University is relatively new to FSMA-related work. She had not met any of the other NCR FSMA partners in person prior to the meeting. She said, "Don from the PSA was extraordinary and made me feel welcome. I felt part of the team and they recognized who I was. They made me feel I belonged there."
Holly Rose Mawby of Dakota College in North Dakota joined the meeting remotely. Despite the fact that she didn't attend in person, she also felt it provided her with opportunities to "meet" people. She said, "Participating in the conference helped me put faces to names […] I'd talked to Joe [from Iowa State University Extension and Outreach] a million times but had never seen his face. That made me feel more a part of the team."
Of course, participants also found the content of the meeting beneficial, too. Mawby said, "It gave me really good ideas on activities to incorporate into trainings. Without interaction or activities, producer trainings can be long." Respondents to a post-event survey agreed, with seven mentioning they liked an activity during which Connie Fisk (Produce Safety Alliance) shared pictures of different types of Biological Soil Amendments of Animal Origin (e.g. manure). Participants ranked the photos in the order they believed to be from the greatest to lowest risk of contaminating produce, to simulate an activity they could conduct with participants during a PSA Grower Training.
Hannan said, "It is a great tool that can be used many ways. It can be used for general discussion to gauge how participants are grasping the content, it can be used the get participants up and moving around, and really gets the group into discussion mode so that organic conversation about produce safety can happen. I think it is one of the best activities we do in class because of its flexibility."
Stoeckel appreciated the session regarding FSMA inspectional designs, during which each state shared their status and plans for beginning inspections. "That was the most valuable session—to hear from each state outreach team all in one session."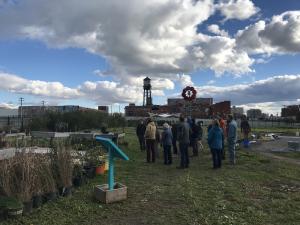 The meeting was not without challenges. To many participants, it seemed that the meeting could have been longer. There was so much to talk about! Several survey respondents mentioned that the deep dives could have gone deeper had the agenda given enough time.
The NCR FSMA is planning its next face-to-face gathering for June 2019 and is looking at the lessons learned from this gathering. They will hold their first official annual conference in June 2019 in Indianapolis thanks to new funding from USDA NIFA. The conference will include ample time for networking and building partnerships, time for true deep dive discussion, farm tours, and a longer format. News and Brews participants are looking forward to learning more from one another, interacting more with regulators, and taking deeper dives into additional topics.