Collaboration in Indiana Serves Produce Growers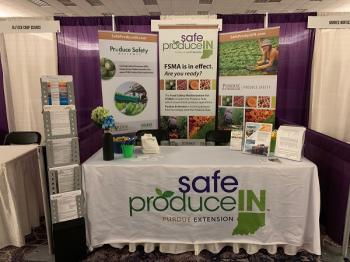 The produce industry looks different in every state, even states within the same region. The geography, weather, and local tastes all create a unique set of circumstances for the produce industry. Similarly, the way the state government is organized creates a unique structure for Food Safety Modernization Act (FSMA) implementation in each state.
According to Jeff Cummins, General Counsel and Director of Legislative Affairs with the Indiana State Department of Agriculture (ISDA), only two or three states have structured their departments of agriculture in a similar way to Indiana. Their department's primary mission deals with economic development, policy advocacy, and environmental stewardship. Unlike most other states, the ISDA does not have regulatory authority over the Indiana food industry.
This unique structure has both challenges and opportunities. Their agency focuses on produce safety outreach. They can advocate for the produce industry on economic development, but they don't have all the expertise and time to oversee produce safety trainings or inspections.
The Indiana Department of Agriculture, the Indiana State Department of Health, and Purdue Extension collaborate under the umbrella of Safe Produce Indiana. As JoAnna Beck, a produce safety supervisor with the Department of Health said, this "gives growers a lot of resources and people they can trust and turn to when they have questions."
Purdue Extension provides the trainers for Produce Safety Alliance trainings, which growers are required to take by the Food Safety Modernization Act, but the department of agriculture has a presence as well.
Tari Gary, food safety outreach coordinator for the Indiana Department of Agriculture, gives an introduction at the trainings. She gives an overview of the role that each agency plays in the produce industry and works on forming relationships with growers. She explained, "because we're not responsible for the regulations or the education, we can better tie in with other organizations and really hear people's needs."
Beck's agency is the regulatory arm of the partnership. They are in charge of inspections and On-Farm Readiness Reviews. They invite staff from the Department of Agriculture and Purdue Extension to attend OFRRs, but the Department of Health takes the lead.
Cummins explained, "Growers can invite someone from the Department of Agriculture to attend an OFRR or inspection on their farm. Not that we need to look over the shoulder of the Department of Health, but it gives producers who are not used to regulations a comfort level as they adjust to a new regulatory scheme."
Beck agreed on that point. "Growers trust the Department of Agriculture and Purdue, because they don't have regulatory authority. As time goes on, they start to trust us as well. Inspections are less scary, because we've gained rapport with the growers."
Indiana hosted the NCR FSMA's first annual conference in June 2019. Cummins saw real value in having the conference nearby. "It was a chance to share stories and collaborate. It was incredibly useful to making sure that we're all helping each other improve. You don't know what you don't know. Someone says something to spark an idea and that can generate a new protocol."
Dr. Amanda Deering, clinical professor in the Department of Food Sciences at Purdue University, agreed. "The center gives us a platform to hear what other states are doing. It is a sounding board that gives us the opportunity to talk with other states in the region and find out what is working and what is not working, and how we can improve."
As the state lead, Deering was able to access additional training funds through the NCR FSMA. She utilized the funds to educate an additional trainer. "I think having the additional people have helped increase our capacity here at Purdue. We can reach more growers."
One of the most exciting improvements in Indiana is their post-harvest produce safety center on the campus of Vincennes University, which opened in August 2019. Cummins explained, "It will be a world-class shared space, so Indiana can continue to be a leader in food safety training and innovation." Gary added, "We are excited to show this off to the grower community and the agricultural community in the state."