Produce Safety Outreach to Plain Communities in Iowa
Plain community growers are generally concentrated in small areas. Bringing trainings to their communities can generate large audiences for trainings if an educator has built a relationship with the community. By reaching out to leaders within three Iowa Plain communities, 43 individuals were served. These 43 individuals represent produce sold into three auction houses, statewide grocery stores, and one national grocery chain. Collectively, sales from these farms represent greater than $2,000,000 of produce sold into the Iowa and regional markets. 'Plain' is a catchall term used to describe communities such as Amish, Mennonite, Hutterite, etc.
Examination of the list of farmers served during the first 2 years of PSA trainings in Iowa revealed very few Plain grower participants despite the existence of several communities in the state.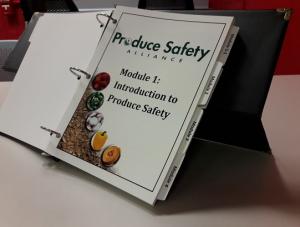 The Iowa State University On Farm Produce Safety Team encountered several barriers that limit communication and access to Plain community growers. Typical advertising methods used by this team included email, radio, and social media campaigns that did not reach these populations. On the other hand, print and word-of-mouth campaigns did reach some individuals, who through their internal networks provided limited access to their larger communities. One more barrier was the technology used to present the course materials. The typical delivery method for the materials is through a PowerPoint presentation and many Plain communities prefer non-digital based methods for education. To accommodate this, our team utilized a paper flip chart developed by Penn State University to display the printed PowerPoint slides. The final and most important barrier was that these communities operate on trust and relationships. To work with these communities, a positive relationship must be developed with one of the leaders of the community.
In order to include and serve these growers, Dan Fillius, a Food Safety Educator from Iowa State University Extension and Outreach, reached out to leaders of these communities via handwritten letters and, when possible, by direct phone calls. Several back-and-forth correspondences occurred before access was approved and trainings were scheduled. In cooperation with the community leaders, three methods were used to reach Plain grower communities during the winter 2018-19 meeting season:
Hiring transportation for the training in Leon, IA
A produce auction-house training in Southeast IA
An in-home training in a large centrally-located home in Granger, MN: Though the business address of this grower co-op is in Iowa, the community straddles the border with Minnesota. Consequently, the training was held ½ mile over the state line on the Minnesota side. Iowa trainers worked with the Minnesota team to lead this training.
Distance is not the only consideration to make for travel. Since PSA trainings happen in the winter in Iowa, daylight hours are shorter during training season. Some buggies have lights for night travel, but it is still best to travel during daylight. The start and end times were adjusted so that transportation would occur during daylight hours. The typical timing of 9-5 was shifted to 8:30-4:30 in mid-February to allow safe travel.
Iowa uses an online registration system that produces auto-filled forms with farmer names and addresses that are used to send course certificates. The Plain communities did not use the online registration system which necessitated completing registration forms prior to the start of class. It is advisable to send paper registration forms for the group to fill out ahead of time in order to minimize delays at the training. Sending these at least a few weeks early is recommended since the community members don't always see each other frequently. Registration forms should be reviewed prior to leaving the training site as any corrections needed or follow up questions are difficult to address later.
Materials that are given to other growers on USB drives were printed out and displayed on a table for participants to take as they pleased. Additionally, since the UC Davis Excel sheet for calculating Microbial Water Quality Profiles (MWQP's) relies on computers, groups were given print-outs of the "calculate MWQP's by hand" document developed by Don Stoeckel of the Produce Safety Alliance.
Building on the trust established through these courses, the Iowa team has since been invited to three farms in Plain communities to conduct detailed onsite support through On Farm Readiness Reviews (OFRR).