Mark your calendars for April 1-2, 2020 for the second annual conference.
Eau Claire, WI
The conference will include an optional tour of Superior Fresh (on the morning of April 1). Tour participants will gather at 7:30, so the bus can leave at 8:00. We will return to the hotel by 12:00, so you can eat lunch on your own before the meeting begins at 1:00.
A room block is available at the
Lismore Hotel
333 Gibson St.
Eau Claire, WI 54701
Use code "NCR" to reserve your room.
https://doubletree3.hilton.com/en/hotels/wisconsin/the-lismore-hotel-eau-claire-a-doubletree-by-hilton-hotel-EAUDTDT/index.html
Registration is now open.
The registration fee is $75 and includes snacks and lunch on April 2.
Thanks for attending the first annual conference for the NCR FSMA!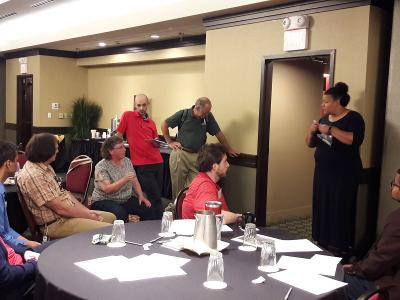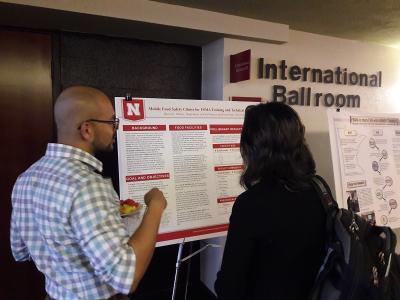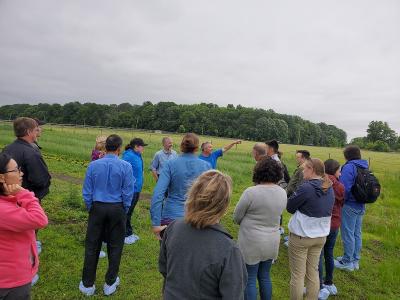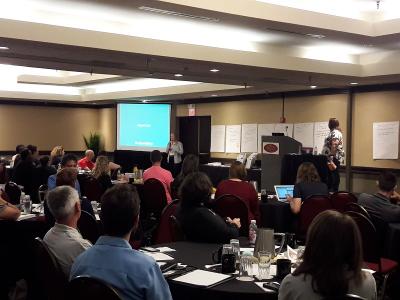 The NCR FSMA hosted its first annual conference
June 10-11, 2019
Crown Plaza Indianapolis Airport
Breakout Session Notes
breakout_session_summary.pdf
Slide Presentations from Connie Fisk, Produce Safety Alliance
2019_psa_annual_trainers_update_ncr_fsma.pdf
2019_psa_deep_dive_ncr_fsma.pdf
Slide Presentation about Alternate Curriculum from Angela Shaw
alternate_curriculum_powerpoint.pdf
Slide Presentation on NCR Evaluation
annual_conference_evaluation_presentation_june_2019.pdf
Slide Presentation on the OFRR Scenarios and Discussion
ofrr_preparation_discussion.pdf
Slide Presentation: Updates from Partner Organizations
updates_from_partners.pdf
Lightning Round Slides
lightning_round_talk_powerpoints.pdf
OFRR Slides
ofrr_from_phil.pdf
Please contact Ellen Johnsen with questions at ncrfsma@iastate.edu or by phone at 515-294-6773.
Agenda
June 10
Time

Program

8:00 AM

Farm Tours Optional

12:00 PM

Lunch on your own

1:00 PM

Welcome, Agenda Review

FDA Center and USDA Center

1:45 pm

Federal Update

-FDA Update

-USDA AMS: HGAPS/ PSR Alignment

-USDA FSOP Update

3:00 PM

Break (Poster Available)

3:15 PM

Inspection Update: FDA Inspection and States Share

4:00 PM

Produce Safety Alliance Update

4:30 PM

Regional Centers Update (National, Southern, Northeast, Western, Tribal, and Local Foods)

5:00 PM

Break

5:15 PM

Alternate Curriculum

6-7 PM

Reception (Poster and Material Sharing)
June 11
Time

Program

7:55 AM

Good Morning

8:00 AM

Lightening Round Topics

9:15 AM

Deep Dive: Produce Safety Alliance Grower Trainings

-Material delivery strategies and Modules Discussion

10:00 AM

Break (Posters Available)

10:15 AM

On Farm Readiness Reviews Results: Region and National

11:00 AM

Deep Dive: On Farm Readiness Reviews

-Behavioral change, Best practices, and Discussion

12:00 PM

Lunch

12:45 PM

Brainstorm: Needs for Region

Room 1 (Educators Break Out)

-Grower Educational, Research, and Professional Development Needs

Room 2 (Regulators Break Out)

-Action items from NASDA Produce Consortium

1:30 PM

Priority Report Out

2:00 PM

Break

2:15 PM

Success stories/ Evaluation

2:45 PM

Wrap Up, Next Steps

3:00 PM

Adjourn
This work is supported by the Food Safety Outreach Program [grant no. 2018-70020-28877 ] from the USDA National Institute of Food and Agriculture.