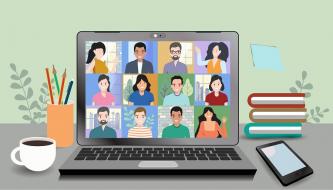 We gathered virtually on February 11, 18, and 25 from 1:00-4:00 pm, Central time each day.
Recordings are available in the NCR FSMA Box. If you don't have access, please contact us and we will get you added to the list.
Thanks for attending our third annual conference (and our second virtual conference)! We had 88 people who attended at least one session, with an average attendance of 63 people each week.
Thank you to our planning committee: Byron Chaves, Kristin Esch, Cal Jamerson, Vivien McCurdy, and Londa Nwadike.
We appreciate all the time our presents put into preparing for the event: Courtenay Simmons, Kristin Esch, Annalisa Hultberg, Phil Tocco, Jordan DeVries, Stephanie Brown, Katelynn Stull, Elizabeth Newbold, Lisa Gilk, Eko Gardenhire, Faz Shakir, Chris Waldrop, Don Stoeckel, Jason Wan, Shannon Coleman, Byron Chaves, and Arlene Enderton.
Thanks for developing the tomato scenario, Scott Monroe, Byron Chaves, and Vivien McCurdy.
Thanks to our small group facilitators: Kristin Krokowski, Sarah Browning, Mike Mosher, Caitlyn Andrews, Carly Tyler, Carmen Holmes, Don Stoeckel, Manreet Bhullar, Londa Nwadike, Micah Hutchison, and Shannon Coleman.
We said good bye and best wishes to the Midwest Regional Associate from the Produce Safety Alliance. Here are a few nice things we said about Don Stoeckel.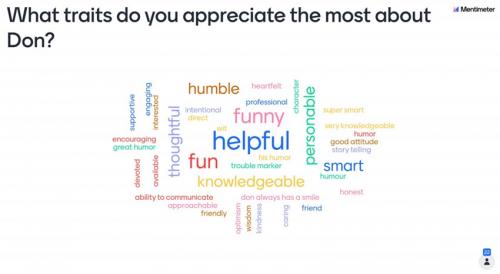 This work is supported by the Food Safety Outreach Program [grant no. 2018-70020-28877] from the USDA National Institute of Food and Agriculture.