Register by March 9 for the second annual conference, April 1-2, in Eau Claire, WI
The conference will include an optional tour of Superior Fresh (on the morning of April 1). Tour participants will gather at 7:30, so the bus can leave at 8:00. We will return to the hotel by 12:00, so you can eat lunch on your own before the meeting begins at 1:00. The tour is currently full. You can sign up for the waiting list, if you're interested.
A room block is available at the
Lismore Hotel
333 Gibson St.
Eau Claire, WI 54701
Use code "NCR" to reserve your room.
https://doubletree3.hilton.com/en/hotels/wisconsin/the-lismore-hotel-eau-claire-a-doubletree-by-hilton-hotel-EAUDTDT/index.html
Registration is now open.
The registration fee is $75 and includes snacks and lunch on April 2.
We're still working on the last details, but here's a tentative agenda for the 2020 conference.
2020_draft_agenda.pdf
We hope you'll sign up to present during the Lightning Round talks. That's where people have three-minutes to share the good work they're accomplishing. Hopefully we'll hear something from every state! Whether you have an FSOP grant, are sharing an update on your state inspections, or you work with a unique group, we want to hear from you.
You can also share your work through a poster. Feel free to bring posters you created for other conferences. We'll be easels, poster board, and binder clips, you bring the poster. Everyone at the conference will have time to read them and learn about your work.
The deadline to sign up for the lightning round talks and posters is March 10.
Thanks for attending the first annual conference for the NCR FSMA!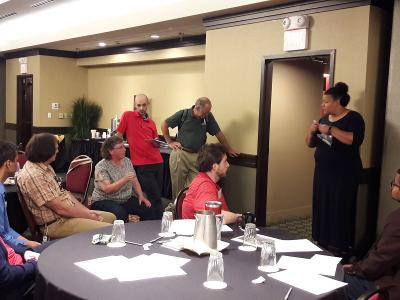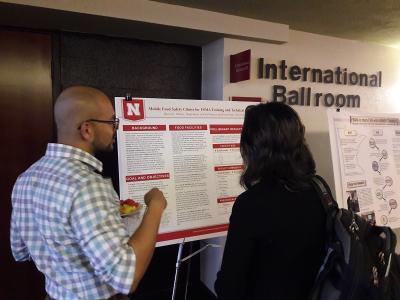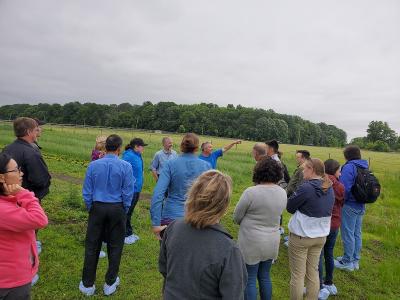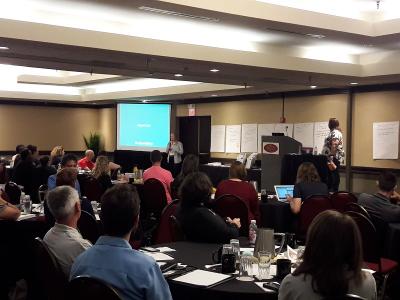 The NCR FSMA hosted its first annual conference
June 10-11, 2019
Crown Plaza Indianapolis Airport
Breakout Session Notes
breakout_session_summary.pdf
Slide Presentations from Connie Fisk, Produce Safety Alliance
2019_psa_annual_trainers_update_ncr_fsma.pdf
2019_psa_deep_dive_ncr_fsma.pdf
Slide Presentation about Alternate Curriculum from Angela Shaw
alternate_curriculum_powerpoint.pdf
Slide Presentation on NCR Evaluation
annual_conference_evaluation_presentation_june_2019.pdf
Slide Presentation on the OFRR Scenarios and Discussion
ofrr_preparation_discussion.pdf
Slide Presentation: Updates from Partner Organizations
updates_from_partners.pdf
Lightning Round Slides
lightning_round_talk_powerpoints.pdf
OFRR Slides
ofrr_from_phil.pdf
Please contact Ellen Johnsen with questions at ncrfsma@iastate.edu or by phone at 515-294-6773.
Agenda
June 10, 2019
Time

Program

8:00 AM

Farm Tours Optional

12:00 PM

Lunch on your own

1:00 PM

Welcome, Agenda Review

FDA Center and USDA Center

1:45 pm

Federal Update

-FDA Update

-USDA AMS: HGAPS/ PSR Alignment

-USDA FSOP Update

3:00 PM

Break (Poster Available)

3:15 PM

Inspection Update: FDA Inspection and States Share

4:00 PM

Produce Safety Alliance Update

4:30 PM

Regional Centers Update (National, Southern, Northeast, Western, Tribal, and Local Foods)

5:00 PM

Break

5:15 PM

Alternate Curriculum

6-7 PM

Reception (Poster and Material Sharing)
June 11
Time

Program

7:55 AM

Good Morning

8:00 AM

Lightening Round Topics

9:15 AM

Deep Dive: Produce Safety Alliance Grower Trainings

-Material delivery strategies and Modules Discussion

10:00 AM

Break (Posters Available)

10:15 AM

On Farm Readiness Reviews Results: Region and National

11:00 AM

Deep Dive: On Farm Readiness Reviews

-Behavioral change, Best practices, and Discussion

12:00 PM

Lunch

12:45 PM

Brainstorm: Needs for Region

Room 1 (Educators Break Out)

-Grower Educational, Research, and Professional Development Needs

Room 2 (Regulators Break Out)

-Action items from NASDA Produce Consortium

1:30 PM

Priority Report Out

2:00 PM

Break

2:15 PM

Success stories/ Evaluation

2:45 PM

Wrap Up, Next Steps

3:00 PM

Adjourn
This work is supported by the Food Safety Outreach Program [grant no. 2018-70020-28877 ] from the USDA National Institute of Food and Agriculture.