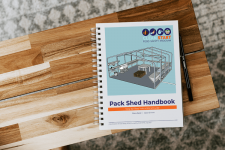 Iowa Valley RC&D, a 501(c)(3) nonprofit based in Amana, Iowa, provides technical assistance to small and beginning farmers in Eastern Iowa. Many farmers have asked for guidance to set up a low cost, food safe, GAP certifiable, and efficient space for washing and packing produce. With funds from the North Central Region Center for FSMA Training, Iowa Valley designed and constructed a temporary pack shed structure and created an instructional building guide to enable anyone to construct the pack shed on their own. The simple structure, based on a prefabricated carport, costs around $4000 and incorporates food safety principles in its materials and design. The structure is ideal for tenant farmers who do not have the option for permanent structures but it can work for any small to medium diversified vegetable producer.
Iowa Valley built a model of the pack shed this summer at Over the Moon Farm & Flowers near Coggin, IA. This farm participated in the Clean Start Food Safety Coaching Program in which they created a written food safety plan and received a stipend to invest in food safety improvements. Part of their stipend went toward extending their pack shed to make room for a new walk-in cooler. The new pack shed helped them increase production capacity and efficiency as well as providing useful imagery for the construction guide.
"We were able to create efficient systems for harvesting, packing, and storing produce in a space that felt clean, relatively waterproof, and great for this season of our farming careers. We installed electricity in the pack shed and put up a walk-in cooler. Having everything in one spot increased food safety and our productivity. Going from having no infrastructure of our own to having this packshed was really a game changer for our business!" Anna Hankins & Shae Pesek of Over the Moon Farm & Flowers
The Pack Shed Handbook will be available for free on the Food Safety Clearinghouse and Iowa Valley's website. The Handbook includes a full list of materials and tools, step-by-step instructions, and some food safety recommendations for using the structure. Iowa Valley RC&D is happy to answer any questions about the project or pack shed handbook as people start to use it.