At a recent inspectors' meeting, the issue of reusing cardboard boxes was discussed. FDA Produce Safety Expert Kristin Esch wrote this response:
As per our discussion d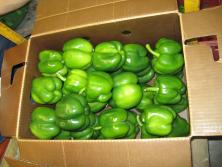 uring the September 3rd NCR Inspectors meeting, please see the answer below regarding your question concerning reuse of cardboard/fiberboard boxes:
As stated in the Standards for the Growing, Harvesting, Packing, and Holding of Produce for Human Consumption: Draft Guidance for Industry, generally, some materials, such as fiberboard or foam, may not be suitable to reuse as packing materials because they are likely to support the growth of bacteria or cannot be adequately cleaned because the structure of the material prevents removal of organic material and bacteria or traps moisture, or the materials could degrade during cleaning (Ref. 10) (Ref. 53) (Ref. 136). Although some single-use food-packing materials could be sufficiently sturdy for multiple uses, they may not be cleanable after use and, when reused, could then serve as a source of contamination or support bacterial growth or transfer (Ref. 10).
To answer your questions, the degradation rate for which wax-impregnated fiberboard will depend on several factors such as material construction, density of the produce, contact with moisture, and handling and storage of the boxes. To illustrate how a farm should evaluate these factors we included a detailed example in the Draft Guidance for Industry:
Example 6c: Wax–impregnated, corrugated fiberboard boxes
A farm places honeydew into wax-impregnated, corrugated fiberboard boxes for distribution. The farm evaluates the waxed, corrugated fiberboard boxes and their use, and concludes the following:
The box material is wax-impregnated, corrugated fiberboard, which is: o smooth and porous, with the wax surfaces having some moisture resistance; and o fragile and malleable (e.g., can be bent, dented, or torn);
The box construction includes open seams that could trap organic material or bacteria;
The boxes are received from the manufacturer on shrink-wrapped pallets that protect them from damage, and the farm's procedures confirm the boxes are in sound condition upon receipt;
The box handling practices typically do not result in damage prior to use;
During packing, each box's condition is intact, and the boxes are not reused;
The honeydew has a firm surface that is usually dry; and
The boxes are sufficiently durable to withstand the honeydew being placed by hand into the box.
The farm determines that the boxes are suitable to distribute the honeydew and are a single-use food–packing material and continues to periodically evaluate the use and handling of the boxes.
Since there is a wide variety of wax-impregnated fiberboard boxes with varying degrees of water resistance we are unable to make a blanket recommendation. However, we strongly encourage farms to use re-useable materials that may be more easily cleaned and sanitized, such as reusable plastic containers (RPCs).
Kristin Esch
Produce Safety Expert
Produce Safety Network | North Central Region
Division of Produce Safety | Fresh Produce Branch
Center for Food Safety and Applied Nutrition
U.S. Food and Drug Administration