Professional Development for everyone who works with the Produce Safety Rule-
In-Person Professional Development Meeting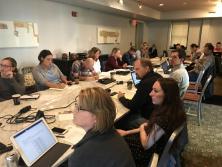 The Fall Professional Development Meeting will be held Tuesday and Wednesday, October 4-5. The group will be gathering in Vincennes, IN, for two full-days of classroom talks, hands-on activities, and demonstrations. The afternoon of Day 2 will hopefully include a farm tour- details are still being worked out. This event is geared towards Produce Safety Alliance trainers, produce inspectors, and state regulators.
Participants will be responsible for arranging their own transportation and lodging. Breakfast and lunch will be provided both days. Cost will be $75 per person.
We want to make sure that people from each state can attend, so we are limiting registration to four people per state. Please work with your produce safety team to determine who will attend. If you don't plan to send four people, please let Ellen know. We will give those spots to states with more staff. Please register by September 16.
Proposed Agenda
Oct 4th, 2022
7:30 – 8:00 AM Continental Breakfast (Assorted Baked Goods, Fresh Fruit)
8:00 – 9:00 AM Welcome & Introductions
9:00 – 10:00 AM FDA water assessment tool
10:00 - 10:15 AM Break
10:15 - 11:15 AM Sanitizers
11:15 - Noon Reading the label
Noon - 12:45 PM Lunch (Chicken and Beef Taco Bar with "fixins")
12:45 – 1:00 PM Wells
1:00 - 2:30 PM Visual well inspections
2:30 - 2:45 PM Break
2:45 - 4:15 PM Demo unit with hands on – sanitizer dispensers
4:15 - 4:45 PM Recap and Reflection (What did we learn?)
October 5th, 2022
8:00 - 8:30 AM Continental Breakfast (Assorted Baked Goods, Fresh Fruit)
8:30 - 9:30 AM The Postharvest Environment
9:30 - 10:00 AM Benefits and Challenges to Wash Packs
10:00 - 10:15 AM Break
10:15 - 11:15 AM Pimp my Ride: Produce Safety Edition (Melon Busses)
11:15 - Noon Best Practices for cleaning harvest totes
Noon - 12:45 PM Lunch (Turkey Croissant, Chips, Cookie)
12:30- 4 ish Farm tour – TBD
Travel and Lodging Information
Vincennes, IN
Getting here:
The facility is located in the:
Vincennes University Agricultural Center
4207 N. Purdue Rd.
Vincennes, IN 47591.
Participants may fly into Indianapolis International Airport (IND). Vincennes is approximately 2 hrs. from the airport. Rental cars may be obtained onsite at IND.
VINCENNES IS IN THE EASTERN TIME ZONE!!!
Hotels in Vincennes:
Holiday Inn Express Vincennes
2720 Battery Road
Vincennes, IN 47591
(Closest to conference site – 3.7 miles)
Hampton Inn Vincennes
2863 Ford Road
Vincennes, IN 47591
(6.5 miles from conference site)
TownePlace Suites by Marriott Vincennes
1320 Willow St. (State Hwy 441 North)
Vincennes, IN 47591
(9 miles from conference site)