Top Outcomes
Faces of Impact- Read our impact stories below.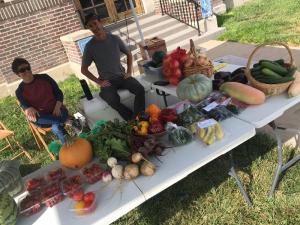 Brooks and Mai

Farmers as Trainers

Buske and Puffer

missouri_impact_story_final.pdf
Conducted meeting with our Extension Partners, State Leads, and Department of Agriculture, Produce Safety Alliance, and FDA staff:
Five NCR FSMA virtual meetings
Eleven optional listening session calls
Developed a needs assessment for growers and another for processors:
Had much better response with the growers than processors
Used the results to determine needed additional resources and began developing them
Created one resource and have 16 currently under development:
Wildlife Management Guidance
Value Added Product Guidance: Pickles and Relish; Fermented Foods; Jams and Jellies; Frozen and Dehydrated
Practical Record Keeping: Exemption Worksheet and record-keeping envelope
On-Farm Training Guide for Employees and Volunteers
U Pick Guidance
Guidance for Wine, Hops, Wine Grapes, and Orchards
Domestic Animals Guidance
Biological Soil Amendments Guidance
Bodily Fluid Clean Up on the Farm
Topics we partnering with other organizations to address:
Organic Production Group - Georgia Organics and another Organic groups
Plain Community - The Ohio State University and Michigan State University
Other resources in development:
Interactive quizzes for Value added products processors
Additional record keeping documents for on-farm use
Four Hmong videos have been recorded and currently are in post-production with recording by Hmong actors for voiceover narration. English subtitles are included
Provided monetary support to increase capacity:
Supported multiple trainers attending a PSA or FSPCA train the trainer course
Distributed funds to state leads to be used to support trainings in individual states. Each state lead allocated the funds to where they would be most helpful for their unique situation
Journal articles are being written.