The Food Safety Outreach Program RFA was recently released. Applications must be received by 5 p.m. Eastern Time on June 6, 2019.
You can find the RFA at:
https://nifa.usda.gov/sites/default/files/rfa/fy-2019-food-safety-outreach-program-rfa.pdf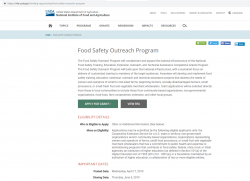 The Southern Center reviewed the document and highlighted these points:
"Previously funded Project Directors are eligible to submit proposals in FY 2019." p. 11
There are now two types of award instead of three: Community Outreach ($80-150k over 2 years) and Collaborative Education and Training ($200-400k over 3 years).
Each grant offers up to an additional $150k for Collaborative Engagement Supplements for projects that include significant collaborations with 1890s, 1862s, 1994s, Insular Areas, ANNH, or HSACU, to increase outreach to underserved minority communities.
Lakshman Rajagopal (lraj@iastate.edu) is the FSOP contact person for the NCR FSMA.
If you have an idea and are looking for a partner to work on the project with, contact us (ncrfsma@iastate.edu), and we'll help connect people.
For letters of support for your application, please contact Ellen (johnsene@iastate.edu).
Please let us know how we can help support your application. We're looking forward to seeing what amazing ideas everyone has to promote food safety in our region.